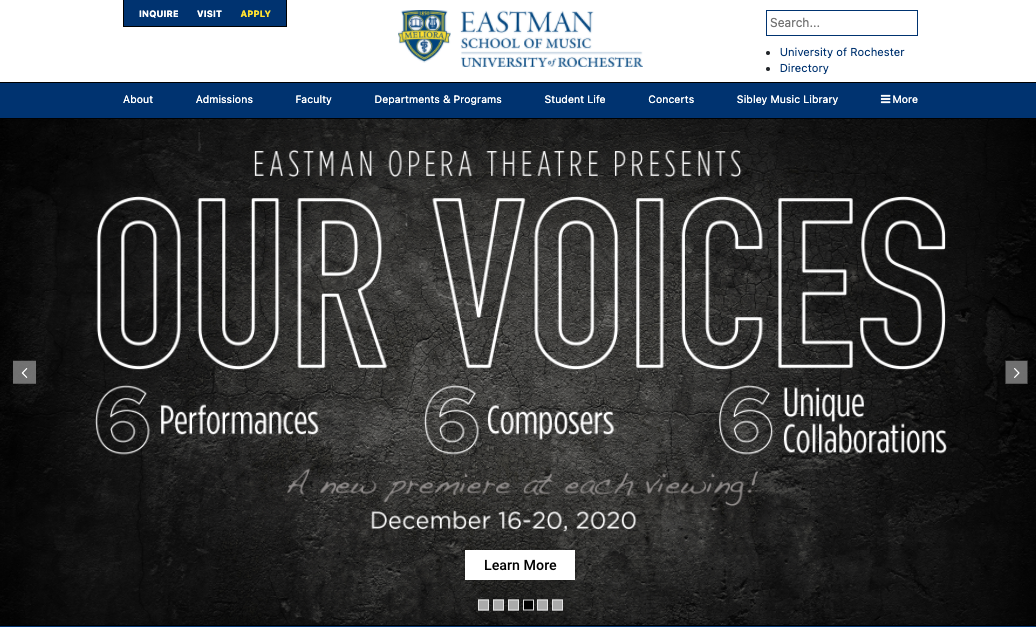 Trying to re-invent how we put together performances, we had to come up with virtual options for popular events. Those included Holiday Sing, a holiday performance from students and faculty at Eastman, and the fall opera. I was involved in figuring out the needs for functionality and what was needed for promoting the events as well as collecting the numerous assets needed that were supplied by students and faculty. We had to collect videos, organize them, have them edited, share technical information so videos were supplied correctly. For the Dona Nobis collaboration, we had to have a track video for people to follow and all of these had to be phased out early enough to collect the assets and share on specific dates.
The opera department had its own set of issues to figure out. I had to find a way to showcase 1 video, being released live at a certain date/time and then have it show automatically on the page for view. It took a lot of planning and organization to be able to pull this massive shows. They all were a huge social media success with thousands of views.
Sed ut perspiciatis unde omnis iste natus error sit voluptatem accusantium doloremque laudantium, totam rem aperiam, eaque ipsa quae ab illo inventore veritatis et quasi architecto beatae vitae dicta sunt explicabo. Nemo enim ipsam voluptatem quia voluptas sit aspernatur aut odit aut fugit sed quia consequuntur magni.