Portfolio Addition: New look and new website for SEI Design Group
SEI Design Group is a architectural firm recognized by their work in K-12, Higher Education, Healthcare, Hospitality and Commercial projects. They were getting ready to celebrate their 10th anniversary and wanted to modernize their brand and website. They met with Michelle Martorell at Creative Ideology and requested that their new brand, needed to have some of the old brand legacy look but with a modern twist.
Many, many renditions later, SEI finally settled on a brand that had the legacy look, giving props to the original logo designed by the original 6 partners (which has a hidden 6 on the logo plus the word "SEI" means 6 in Italian) and having that new fresh look all the younger partners and employees desired for the future of their firm.
CI also designed their stationary package and icons for social media pages.
After the brand was settled, the website project was started. They were going to move from an old flash website to a new responsive, easy to manage CMS. Creative Ideology helped them navigate their functionality needs and create a new content architecture that spoke to their clients. Then, Michelle guided them on how to tell their story and create new content to fill in where the old website was lacking. We created new pages that spoke to their services in architecture, design and master planning and also expanded their company's content by adding a fun team page with rollover images for each team member. A new working here page where they could post exciting things happening at SEI and a community page where they could post about the charity events and extra curricular activities they do to help around our community. Their projects page was also expanded to have a gallery of projects with a per-project portfolio page, where they could expand on details and add multiple photos to each project.
After we had all the content we needed, we also looked through their vast photo library to find the correct images for each page. Some pages we needed to take custom photos of their beautiful offices. CI retained Matt Wittmeyer to do all the photography, including the team member photos, plus the custom photos we needed to finish the project. We shot these during multiple days in two locations, Albany and Rochester. Lots of driving around for Matt!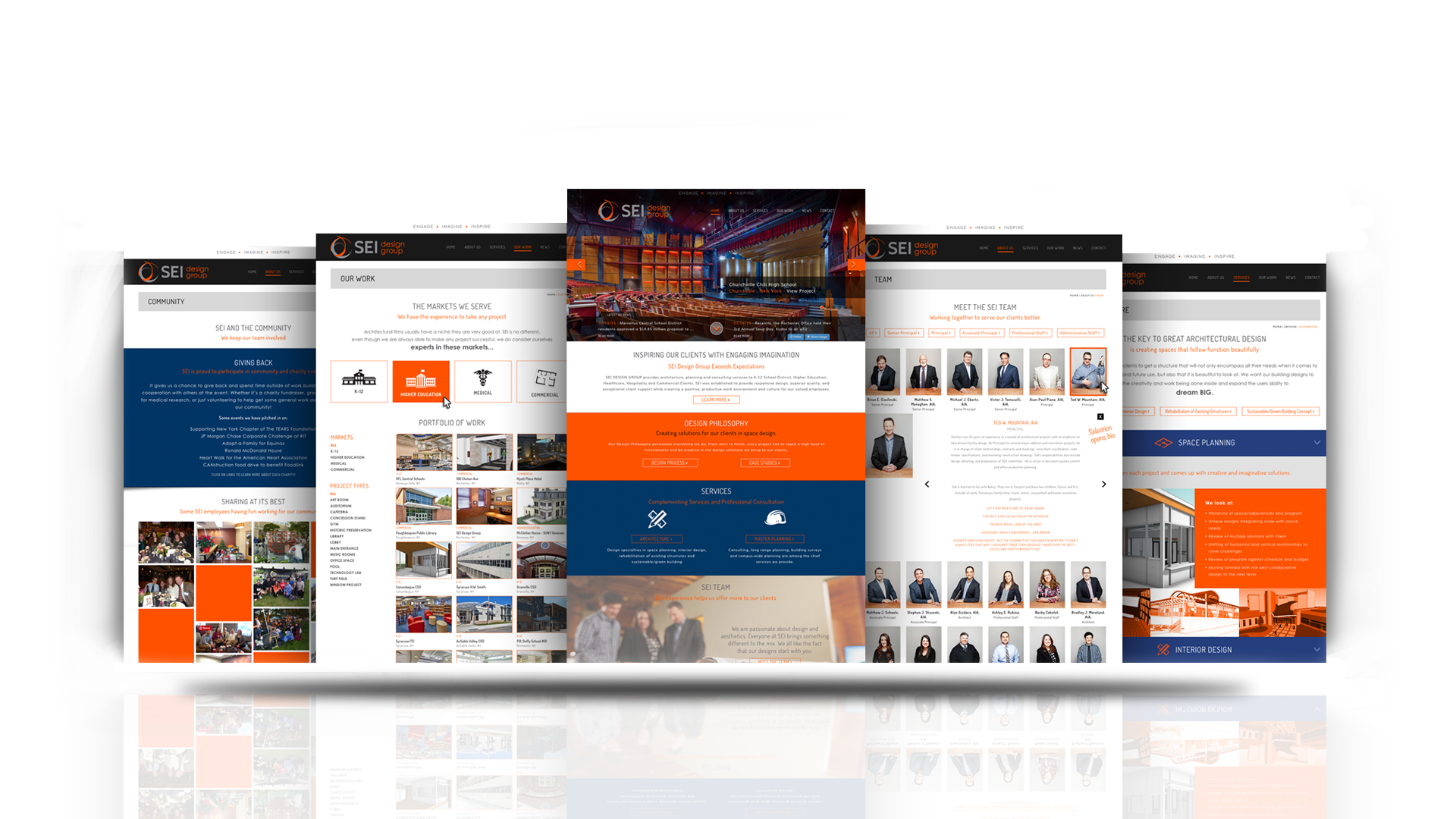 CI's contact at SEI, TedMountain, Project Manager and Partner at SEI, was amazing at getting all the logistics lined up to make the project possible. Without him we would have had a hard road to coordinate everything from design meetings to photo shoots. (Thanks Ted!)
Here is a nice testimonial from Ted himself!
"Michelle is detail oriented, custom based and ready to help with any marketing or PR needs you may have. She helped our firm, SEI Design Group, with a new marketing strategy, website design, logo and social media campaign. Michelle is easy to work with, knowledgeable in marketing and goes the extra mile to make sure her clients are satisfied. I recommend Michelle without hesitation for any company to work with!"
After all the content, design and everything was ready to roll, CI did some more research and contacted various development companies around town, eventually settling on Basch Solutions to build the custom responsive website on their PHP based proprietary CMS. This allowed SEI to have a site with the capabilities of Drupal but without the versioning requirements an open source CMS brings.
Basch Solutions took the Hi-Fi Photoshop mock-up of the site and in less than 2 weeks was able to show SEI and CI a fully functional dev site. It was amazingly fast and they did a great job. Justin Basch was always on top of the work, he reviewed everyone's questions and concerns and took care of any change we needed. We were all very pleased with the turnaround and the service we received from Basch.
Finally SEI's website went live and after the soft launch and a few more reviews it was ready to announce to the world right before SEI's 10th Anniversary in July. The event was held at SEI's main offices in High Falls full of fun, food and fanfare. The website and all the branding efforts were well received and everyone was very happy with the results.
Creative Ideology is very proud to showcase our clients SEI Design Group and their new website at seidesigngroup.com. Thanks to all that participated in this project including Matt Wittmeyer and Justin Basch from Basch Solutions. Great job everyone, we are very proud of the team effort and extremely pleased with SEI's new look. Congratulations all!
To find out more about what can Creative Ideology do for your business please visit creative-ideology.com.