Minority Business Certification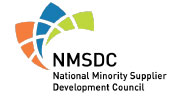 It took a few tries and a LOT of documentation (even my birth certificate!) but yes, Creative Ideology is now a Certified MBE which stands for Minority Business Enterprise. I don't know if I consider myself an enterprise but enterprising… yes! I went all the way to NYC for the orientation and got to meet some great people from the NY & NJ Minority Services Development Council (NYNJMSDC how's that for an acronym?).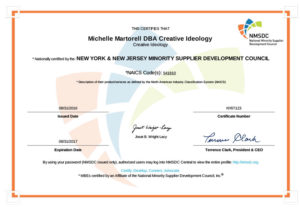 Basically this certification opens my little company to be included in opportunities that normally wouldn't be offered. Large companies are required by law to offer around 30% of projects to minority owned companies. They also do the same for Women Owned companies, which I am also going to be certified at some point.
I do hope being a hispanic woman would finally open some doors for me. I sure hope so. My work and abilities are certainly up to par and it would be exciting to grow my company thanks to this little certificate.